Six Month Smiles® in Ellicott City
---
Can you visualize yourself with a beautiful, straight smile six months from now? It may be hard to believe, but having the smile you've always wanted – without bulky metal braces or long treatment times – is within your reach!
At Jennifer Sokolosky DMD, we offer short-term orthodontics to straighten your teeth and fix gaps, giving you a smile you want to show off. Our custom adult orthodontic treatment plans focus on what you'd like to change the most about your smile so that you don't have to wait to enjoy it.
---

---
What are the benefits of Six Month Smiles®?
---
Your smile is your calling card for your unique personality. If you feel self-conscious about crooked or gapped front teeth, you may not send the impression you intend to convey.
It's not unusual to see people hiding their smiles behind their hands because they don't like the way their teeth look. But concealing your smile prevents others from getting to know the true you.
That's why Six Month Smiles focuses on your visible front teeth, which are most noticeable and impact your smile the most. This short-term clear braces system is for people who want a cosmetic upgrade to their teeth and a big impact on their life.
You'll also enjoy these benefits of Six Month Smiles:
Fast results – Since we only straighten the teeth that are visible when you smile, these adult orthodontics are faster than traditional metal braces or clear aligners.
Discreet orthodontics – Six Month Smiles braces blend in with your teeth because the wires are tooth-colored and the brackets are clear.
Better oral health – Not only will your teeth be easier to clean after your treatment, but your teeth will also stay healthy because they won't be hidden behind braces for years.
Comfort – With its shorter treatment time and gradual, gentle pressure, Six Month Smiles offers a more comfortable experience than traditional braces.
---
How does Six Month Smiles® work?
---
You may find it hard to believe that you can fix your crooked or gapped teeth in just six months! While the exact length of treatment will depend on your individual case, the average treatment time is six months. How do we achieve these amazing results?
Wearing clear braces encourages your teeth to move using gentle, low pressure. Since we are only correcting spacing and alignment issues in the front teeth, the treatment time is vastly shorter than with traditional braces or clear aligners.
At your orthodontic evaluation in our Ellicott City dental office, Dr. Sokolosky will examine your teeth and make sure you're a good candidate for Six Month Smiles before creating your treatment plan.
If you're eligible, Dr. Sokolosky will take x-rays, photos, and impressions of your teeth so that an offsite lab can fabricate your braces.
We'll also use 3-D modeling and 360 animations to predict how long your treatment will take and to calculate the movements required to achieve your ideal smile.
When you return to our dental office, Dr. Sokolosky will bond the clear brackets to your teeth and thread the tooth-colored wires through each bracket. You will return to our dental office regularly for adjustments so that we can monitor your progress and ensure that your teeth are moving toward their correct location.
At the end of your treatment, we will provide you with a retainer to keep your teeth from moving back to their original location. This will help protect your investment for the long term!
---
What types of problems can Six Month Smiles® fix?
---
That's a great question! We recommend Six Month Smiles for adults or older teens who want cosmetic changes to their front teeth.
Problems we can treat with clear braces include:
Gaps in front teeth
Crowded or crooked teeth
Overlapping
Orthodontic relapse
Call our Ellicott City dental office today to schedule an orthodontic evaluation with Dr. Sokolosky. We will answer any questions and provide adult orthodontic treatment options that fit your needs and lifestyle.
---
How can I straighten my teeth before my wedding?
---
Many brides- and grooms-to-be want to have their absolute best smile for their wedding and keepsake photos. The good news is that if you have less than a year until your important event, you can fix gaps between teeth, overlapped teeth, and crowded teeth all before the big day.
With a shorter treatment time and discreet appearance, Six Month Smiles provides the perfect adult orthodontics solution for busy, time-crunched patients.
---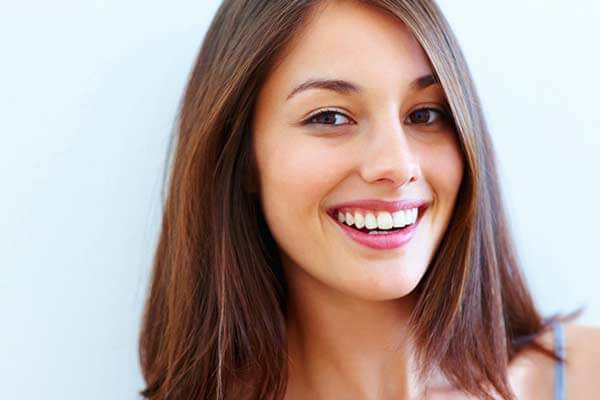 ---
What foods should I avoid with clear braces?
---
To ensure that treatment progresses smoothly in the time Dr. Sokolosky plans for you, avoiding certain foods is essential. The wrong foods can damage the brackets and wires on your teeth, leading to extra appointments and treatment time.
Avoid these foods with Six Month Smiles treatment:
Hard foods like nuts, bread or pizza crusts, popcorn kernels, and candy
Sticky foods like caramel and some energy bars
Also, it's best to avoid biting into foods and cut them into pieces instead.
---
How often are adjustments with Six Month Smiles?
---
To ensure that your teeth keep moving in the right direction, Dr. Sokolosky will adjust your clear braces on a regular basis.
How often you visit our dental office for adjustments will depend on your individual case. Most patients need three to seven adjustments to straighten their teeth or close gaps.
You may have mild discomfort for a few days following each adjustment, but the end result will have you smiling for the long term!
---
Will I need a retainer after wearing Six Month Smiles?
---
Yes! The good news is that wearing a retainer will keep your teeth straight and in their new locations after treatment ends. Since all orthodontics require wearing a retainer post-treatment for this reason, we encourage you to be diligent about wearing your retainer.
When your treatment is complete, we'll discuss the different options for retainers with you, depending on your lifestyle and needs.
If you're ready to upgrade your smile with short-term orthodontic treatment, call our Ellicott City, MD dental office today. A member of our team will be happy to help you schedule a convenient consultation with Dr. Sokolsky to discuss all your options.