All-on-4® in Ellicott City
---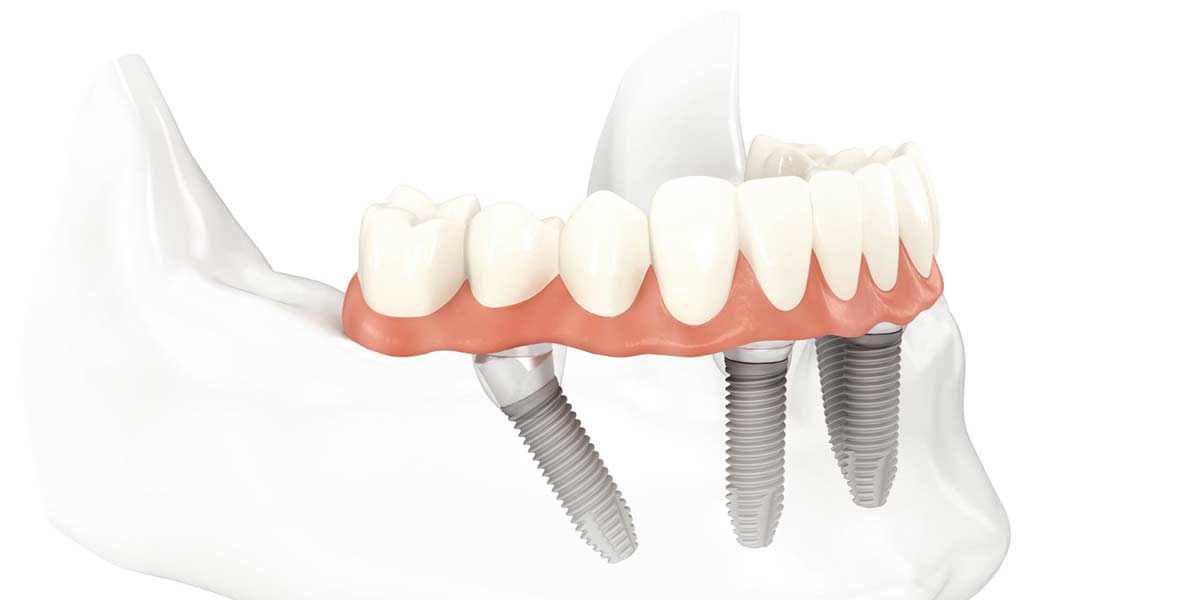 MD Smiles provides All-on-4® services in Ellicott City, MD. Call 410-531-2690 to learn more and schedule your appointment. 
All-on-4 is a procedure that restores a full arch of teeth using only four dental implants for support. It involves an innovative technique that places two of the four implants at an angle in the jaw. The angled implants mean that even patients who have suffered jawbone loss may be candidates for an All-on-4 restoration.
The All-on-4 process involves placing two anterior implants into the jaw vertically and two posterior implants at an angle, allowing them to maximize existing bone density rather than requiring supplemental bone grafting procedures. This means the fixed prosthesis is held in place more securely than a traditional denture using fewer implants than required for other full arch implant-supported dentures.
Another benefit of the All-on-4 dental implant procedure is that both surgical placement and prosthetic attachment can be completed in a single appointment. This makes All-on-4 a more convenient option, and also a safer one for patients who have health conditions that make surgical procedures higher risk. 
An implant-supported full arch restoration like All-on-4 has many advantages over traditional dentures. Because they are anchored in place with dental implants, they offer more stability—they won't slip, irritate your gums, or interfere with your ability to eat or speak. All-on-4 restorations are fixed, so you won't have to take them out each night. Most important of all, All-on-4 will help you maintain and even rebuild bone in your jaw, resulting in a stronger bite, better health, and a more youthful appearance.
---
Frequently Asked Questions About All-on-4
---
How long do All-on-4 implants last?
---
The dental implant posts used to support an All-on-4 prosthesis are meant to last a lifetime and should never need replacement. The prosthesis itself can last up to 20 years with proper care and good oral hygiene habits.
---
What does All-on-4 feel like?
---
An All-on-4 restoration feels much like your natural teeth, with a base that mimics the appearance of your gums, but they have more stability than a traditional complete denture, so they won't rock or slip like dentures do.
---
Are All-on-4 implants good?
---
Yes, All-on-4 dental implants are an excellent option for many patients. Patients often prefer All-on-4 over other full arch restorations because it can be completed in a single appointment and the esthetic results are phenomenal.
---
Are All-on-4 implants removable?
---
The prosthesis that attaches to your All-on-4 dental implants can only be removed by a specially trained dentist.
Call 410-531-2690 to schedule your appointment.
---